Part of the fun of exploring a local culture is getting to taste the cuisine that the culture offers.
Amongst the 4 cultures, Peranakan food has to be one of my favorites (I have too many favorites from our selection of Singapore's cuisine). And where can we find the largest selection of Peranakan restaurants in Singapore? Definitely Katong of course.
Ngoh Hiang – fatty ground pork, together bits of water chestnut seasoned with five spiced powder, wrapped in bean curd skin. Steamed first, then fried to a crispy outside and juicy inside. Really addictive!
Bakwang Kepiting – Crab and Meatball Soup.
Babi Pongteh – Braised Pork with Fermented Soya Bean (Tau Cheo) This is a vital dish that will be included in a traditional Tok Panjang (translated as long table), a formal dining style of choice for the Peranakan Chinese, for special occasions like birthdays and weddings.
Chap Chye – Mixed Vegetable stew
K loves Nonya Cuisine as well, he has been reminding me every other evening, in our bus journey from school to home. Pointing to Peranakan Inn, exclaiming that he loves the Chap Chye and everything else that we ordered from the restaurant, and that we have to visit the place for a meal very soon.
Do you love Nonya Food too? What's your favorite dish?
And linking up with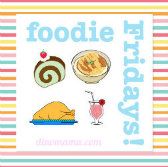 Related posts: