Right at the corner of Chapel Road from East Coast Road is this blue-green colored shop-house with a business that dates back to the 1920s.  With it's mosaic floor tiles and marbled table tops, you will feel just like you stepped back into the 50s ambiance of a Hainanese Coffee Shop.
The hot favorites from Chin Mee Chin Confectionary hardly changed through the years; piping hot black coffee, Kaya Buns, Sugee Cake, Custard Egg Tart, Custard Puff and the Luncheon Meat (SPAM) roll.
Picture on right from The Vintage Recipe Blog
Be prepared to share a table with strangers as the coffee shop can be crowded even on weekday mornings. If you are planning to head there for the first time, don't wait at your table to order, as the auntie (rather aged and quite grumpy) hardly comes around to take your orders. Instead, choose your own pastries from the shelf and stand at the counter to order, and do make sure that the auntie writes it down.
As for my breakfast usual? 2 Half-boiled eggs with dark sauce and a dash of pepper, accompanied with hot Teh-Si (tea with milk).
And it will still be business as usual for this old dame CMC, there be no chance of it closing down any time soon.
How do you like your half-boiled egg? With dark or light soya sauce?
Linking up with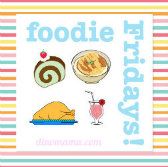 Related posts: