A Singapore hawker favorite made from a broth of prawn head and shells, pork ribs, garnished with bean sprouts, slices of prawn (sometimes pork), kang kong and fried shallots.
The first prawn noodle soup was brought into Singapore by early immigrants from the Fujian province of China. Then, the prawn noodle soup contained dried shrimps and scallops, which were brewed for at least 8 hours to make the stock. The dish was named Hokkien Prawn Noodle not because it was brought from the Fujian (Hokkien) province, rather, it was named as such, as the yellow noodles that usually accompanied the Prawn Noodle soup was made in Hokkien Street.
I couldn't resist walking into the branch of 'Beach Road Prawn Noodle Shop' along East Coast Road after dropping K off from school this week, after noticing the number of cars parked alongside the shop every morning (except for Mondays, when the shop is closed).
Within the same shop, the owners also sold fried wu xiang. Most customers will order a plate of wu xiang to go with with their prawn noodle. But since a long-time resident and foodie of Katong area mentioned not to go with the wu xiang (as it is over-priced and not so tasty), I just went for the prawn noodle soup with bee-hoon.
The verdict? The prawn and pork rib soup was tasty and flavorful, best when served piping hot.
What kind of noodles do you like with your prawn noodle soup, bee-hoon or the yellow egg noodles?
Also linking up with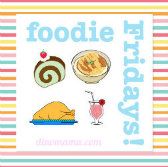 Related posts: