Laksa, a Peranankan dish of 'chor bee hoon' noodles swimming in a rich, spiced coconut and fish based gravy soup of ground dried prawns, fish cake, bean sprouts and cockles, topped with a garnish of Laksa leaves. Salivating yet?
This variant of Laksa from Katong, is characteristic by the way it is eaten from the bowl; with only a spoon, without the use of chopsticks or a fork.
A random fact about Laksa in Katong – in the 90s, Laksa 'wars' erupted among 4 stalls on the same road, all claiming to be the best and the original Katong Laksa. Is this stall the real McCoy?
Actually it isn't. I have been told which stall in Katong is the real Katong Laksa but have yet to try it.
It's going to be a huge challenge to keep my weight down, having to walk pass many of these Singapore local favorites every weekday morning!
Do you like Laksa? How do you usually like it, with 'Hum' or without? Do share your favorite Laksa stalls.
And linking up with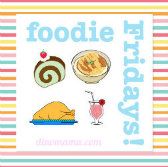 Related posts: